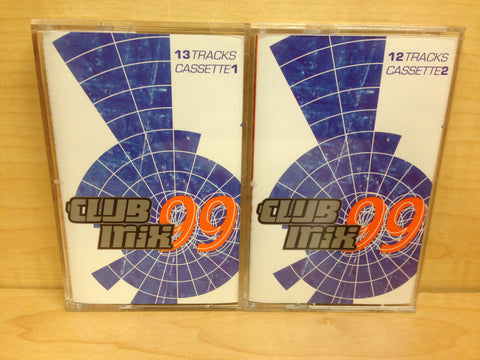 Club Mix '99 (2 Cassette Tape Set) ~ Pre-Owned (Cassettes and Case)
- Pre-Owned
- Includes: Cassette 1 & 2 w/ Cases
- 100% Original and Guaranteed to Play!
Note: Cassette 3 is not included
(used media items do not include any codes of any kind.)
All of our items go through a thorough inspection process. We use top of the line VMI Hybrids to buff any items, that may need it. Our customers can order from us with peace of mind, knowing that the items they receive from us will work as stated!

Track List:
Disc: 1
1. Walkin' on the Sun
2. Coco Jamboo
3. My Love Is the SHHH! [Red Eye Mix Edit]
4. Found a Cure [Mood II Swing Original Radio Mix]
5. Love Is Alive
6. Strictly Business
7. Everybody Dance [Radio Mix]
8. Legend of a Cowgirl [Radio Version]
9. Where Do We Go [Armand's Last Hustle in Paris]
10. Cetch da Monkey
11. My Heart Will Go On
12. Get Ready to Bounce [Radio Attack]
13. No Tengo Dinero
Disc: 2
1. Show Me Love
2. Everybody (Backstreet's Back)
3. Thank God It's Friday [Johnick Club Mix]
4. Shorty (You Keep Playin' With My Mind) [Spensane Extended Vocal Mix]
5. Don't Go [Peter Ries Radio Mix]
6. You Only Have to Say You Love Me [Eddie's Big Vocal Mix]
7. My Baby Daddy [B-Rocks Club Mix]
8. Outlaw
9. One and One [Single Mix]
10. I'll Be There for You
11. I Like the Way (The Kissing Game) ['98 Remix][Version]
12. Rain
UPC (Cassette 1): 022775421545
UPC (Cassette 2): 2022775421644
---
We Also Recommend