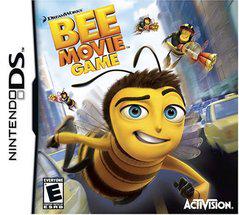 Bee Movie Game (Nintendo DS) Pre-Owned
- Pre-Owned   
- 100% Original
- Region 1/US Release
- Guaranteed to Play!
- All of our items go through a thorough inspection process. We use top of the line VMI Hybrids to buff any items that may need it. Our customers can order from us with peace of mind, knowing that the items they receive from us will work as stated!
- Used media items do not include any codes of any kind.
- Pre-Owned games include game cartridge or disc(s). May or may not include manual, inserts, bonus discs, case, etc. unless specifically stated otherwise.
- Unless specifically stated to be a picture of the actual item. the picture(s) are stock photos used for general reference, and do not represent the specific edition or release of a title, ie. greatest hits, black label, etc. 
- If you have questions regarding the specifics of an item, please feel free to send us your questions prior to purchase.
---
We Also Recommend