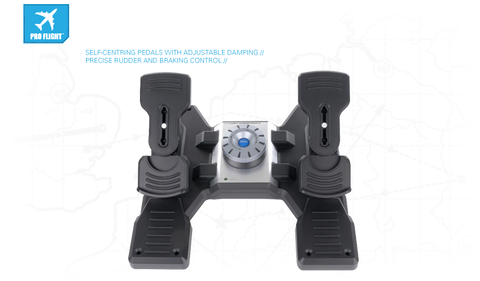 Saitek Pro Flight Rudder Pedals - Flight Pedals with Toe Breaks - Mad Catz (PC Game Accessory) Pre-Owned with Box
-Includes: Rudder Pedals/Flight Pedals with Toe BreaksåÊand BoxåÊ
åÊ åÊ åÊ -Instructions and/or Discs are not included
-Good pre-owned condition. May show minor wear.
-Tested and Guaranteed to work!
åÊ
åÊ
åÊ
åÊ
PRO FLIGHT RUDDER PEDALS
Complete your virtual pilot‰۪s controller setup and take flight simulation reality to the next level with the Pro Flight Rudder Pedals.
Control the rudder and toe brakes of your aircraft with your feet - just like real pilots. Adjustable, smooth action gives you optimum control and realism, and brings you even closer to the experience of flying a real aircraft.
Connectivity: USB 2.0
Windows 8, Windows 7, Windows XP, XP64,Windows Vista (all versions), and Mac OS X
åÊ
PRODUCT FEATURES
Self-centring pedals with adjustable damping
Foot rests adjust to fit all sizes and include non-slip materials
Precise rudder and braking control
Tension adjustment - choose resistance to suit the way you fly
High quality, part metal construction for long life
Works in all flight titles
Smart Technology (ST) programming software allows gamers to configure their controls to suit their preferred gaming style, and to save the configurations as personal profiles
Works with Microsoft Flight Simulator X and X-Plane 9/10 with additional drivers
---
We Also Recommend