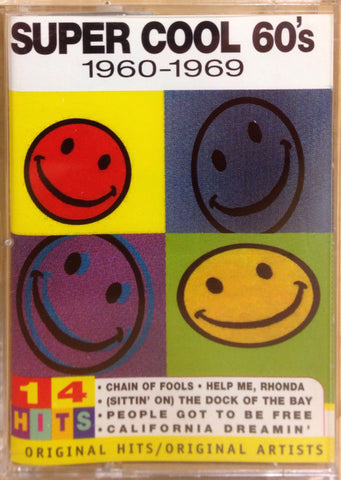 Super Cool 60's 1960-1969 (Cassette Tape) ~ Pre-Owned (Cassette and Case)
- Pre-Owned
- Includes: Cassette and Case w/ Case Art
- 100% Original and Guaranteed to Play!
(used media items do not include any codes of any kind.)
All of our items go through a thorough inspection process. We use top of the line VMI Hybrids to buff any items, that may need it. Our customers can order from us with peace of mind, knowing that the items they receive from us will work as stated!
Track List:
1. Chain Of Fools -- Aretha Franklin
2. Help Me Rhonda -- The Beach Boys
3. (Sittin' On) The Dock Of The Bay -- Otis Redding
4. People Got To Be Free -- The Rascals
5. Happy Together -- The Turtles
6. A Lover's Concerto -- The Toys
7. White Rabbit -- Jefferson Starship
8. C'mon & Swim -- Bobby Freeman
9. Kicks -- Paul Revere & The Raiders
10. I'm A Believer -- The Monkees
11. Abraham, Martin And John -- Dion
12. Crimson And Clover -- Tommy James & The Shondells
---
We Also Recommend