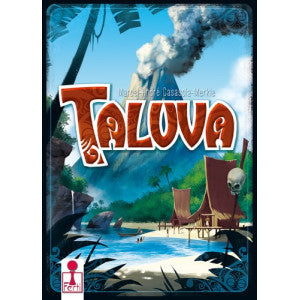 Taluva (Board and Card Games) NEW
- New/Factory Sealed

Description:
On Taluva, that South Seas island shrouded in secrecy, raw elemental powers prevail. Powerful volcanoes erupt, pouring their lava into the sea, forming a terrace-like jungle landscape.
Four groups try to establish themselves on this island. They search the jungle, beaches, and lakes, looking for the best places to build their huts, towers, and temples. They put their fate in the hands of their gods. Each player makes decisions on how the island grows and where his group builds their huts, towers, and temples.

At the end of the game, the temples are the most important for scoring.
It may be advantageous for a player to hasten the game end by building all of two kinds of buildings. But note: if a player cannot build on his turn, he must relinquish his dreams and withdraw.
Product Details
Ages:
10+
Players:
2 - 4
Play Time:
48 - 60 minutes
Designer:
Marcel-Andre Casasola Merkle
Publisher:
Ferti
 
 
Contents:
12 temples
8 towers
80 huts in 4 colors
4 summary sheets
- rules
---
We Also Recommend